ISSUE Project Room 2017 Gala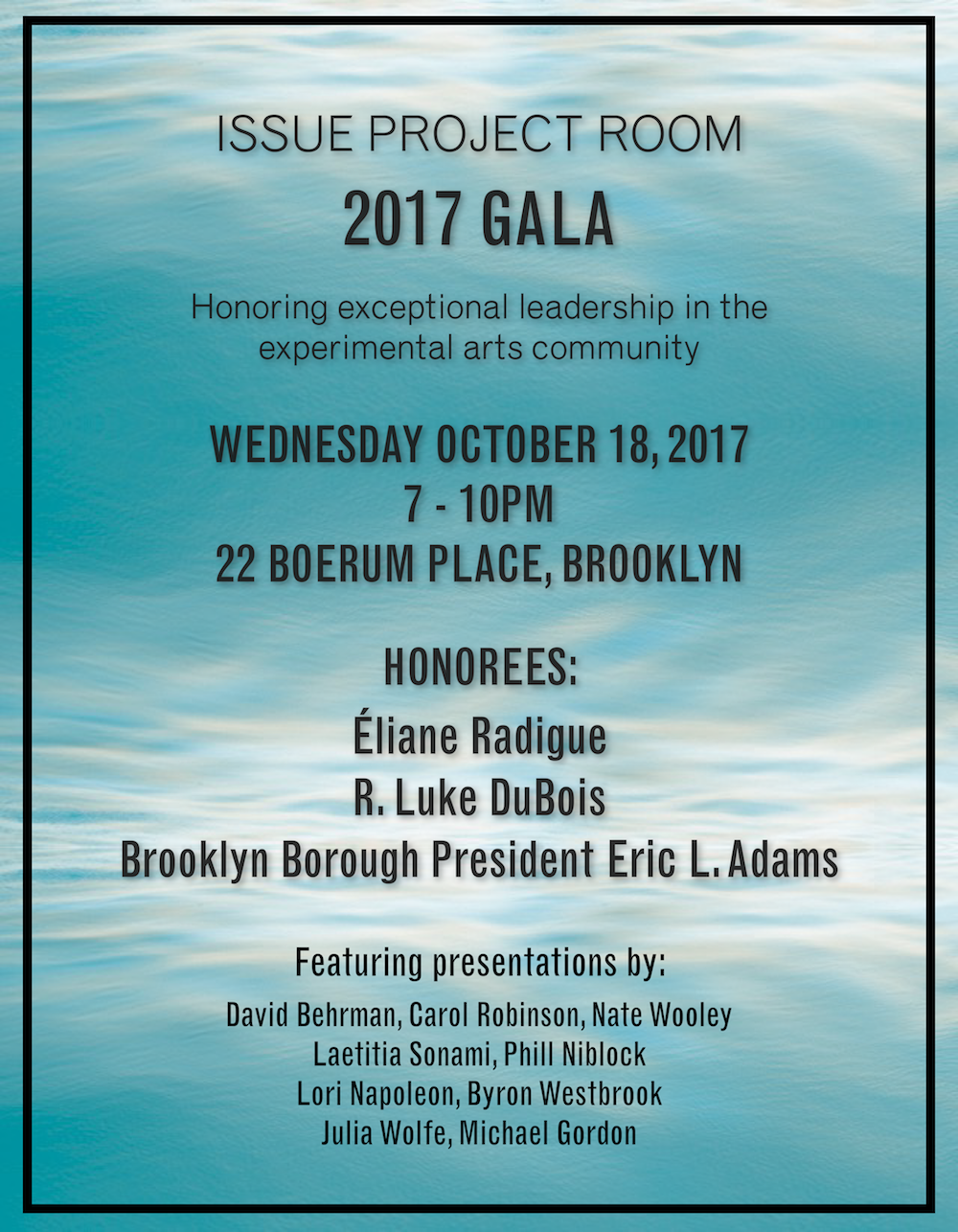 ISSUE Project Room 2017 Gala
Wednesday, October 18, 2017 - 7:00pm
ISSUE Project Room, 22 Boerum Place, Brooklyn
ISSUE Project Room and the Board of Directors invite you to join us for our annual Gala, taking place on Wednesday October 18th, 2017.
Celebrating the trajectory of experimental performance in Brooklyn, and the Borough as a center for innovation in the arts, ISSUE's 2017 Gala reflects the Organization's ongoing role as a leading cultural incubator. ISSUE continues to bring unique and cutting-edge performances to audiences in the heart of Downtown Brooklyn.
The evening honors Brooklyn Borough President Eric L. Adams; the work of pioneering and distinguished composer Éliane Radigue; and artist, NYU Tandon School of Engineering faculty member and ISSUE Board member R. Luke DuBois. For additional information about the honorees please visit the Gala event page. The Gala supports the Organization as an essential artistic voice in Brooklyn, New York City and the international experimental arts community.
We invite you to ISSUE's historic Downtown Brooklyn Theater located at 22 Boerum Place for a special evening, including a cocktail reception, a seated three-course dinner, and live multidisciplinary performances in celebration of the honorees contributions to the field of experimental art and significant impact on ISSUE through their advocacy and support.
Éliane Radigue's honoring at ISSUE's 2017 Gala follows a deep history with the Organization, including one of the first ever performances at the 22 Boerum Theater. Radigue will be honored, in absentia, with performances by friends and colleagues including David Behrman, Carol Robinson, Nate Wooley, Laetitia Sonami, Phill Niblock, Byron Westbrook, Lori Napoleon plus Special Guests. Radigue has inspired many across the spectrum of ISSUE's community and remains a vital pioneer whose methods resonate timelessly. On October 20th, ISSUE presents a related public performance of Radigue's work, including a world premiere alongside additional dedicated presentations. This event is a part of the Moving Sounds Festival; more information here.
For more information, table purchases, or sponsorship opportunities, please contact Patrick Grenier, Development Director at (718) 330-0313 x5 or Patrick@issueprojectroom.org. Additional details about last year's Gala can be found here.
If you are unable to attend the Gala, please consider making a tax-deductible contribution to support ISSUE Project Room's risk-taking artists.
Goods and services associated with the Gala are $250 per ticket. The remainder is recognized as a tax-deductible contribution to ISSUE Project Room.

ISSUE Project Room gratefully acknowledges support for the 2017 Gala from: